One of the most valuable organ recordings ever. I think that Joseph Kelemen proves with his latest cd's that he is one of the top master organists of our time and THE expert on this field of Baroque organ music.
His deep knowledge, experience and his different original way of playing, distinguish him from any other organists of his area. His style is simple, deep, singing and highly rethorical. His registrations derive from original sources in dimension with the magnificent organ at St Ludgeri give this music a completely new insight in the music of this Master of which very few works unfortunately have survived. For the fans of Bruhns this is truly a must and in my view this is best Bruhns recording together with Ton Koopman's latest and Jan Willem Jansen out of print recording.
By Stavros (Greece) – www.cduniverse.com Nicolaus Bruhns, Das Orgelwerk
The combination of Joseph Kelemen, the very fine old Scherer organ at St. Stephan, Tangermünde and the music of Hieronymus Praetorius and Jacob Praetorius Jr is surely pure bliss.
Joseph Kelemen is a very fine organist indeed… The recording in the lovely acoustic of the church of St. Stephan, Tangermünde couldn't be better, full of breadth with clarity and detail.
By Bruce Reader – www.theclassicalreviewer.blogspot.de Hieronymus & Jacob Jr. Praetorius, Orgelwerke
---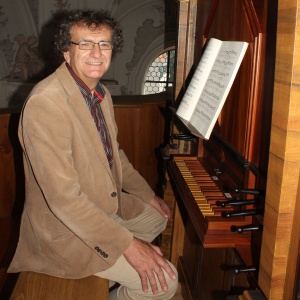 Joseph Kelemen studierte an der Franz-Liszt-Musikakademie von Budapest. Im Jahre 1980 erfolgte die Emigration zunächst in die Schweiz. Kelemen nahm ein Studium an der Schola Cantorum Basiliensis in Basel auf und beschäftigte sich vor allem mit der Wiedergabe der frühbarocken Musik des 17. Jahrhunderts. 1982 wanderte er nach Kanada aus. Dort widmete er sich einem Studium der Philosophie an der University of Toronto. Gleichzeitig erlangte er die Kanadische Staatsbürgerschaft.
Nach dem Magisterabschluss im Fach Philosophie kam er 1986 nach Deutschland und wirkt zurzeit als Hauptorganist an St. Johann Baptist in Neu-Ulm. Ein Aufbaustudium in der Orgelklasse von Professor Harald Vogel an der Hochschule für Künste Bremen folgte. Kelemen gilt als ausgewiesener Spezialist auf dem Gebiet "Alter Fingersatz". Sein Interesse gilt der deutschen Orgelmusik des 17. Jahrhunderts, insbesondere Johann Jakob Froberger, Kerll, Muffat, Matthias Weckmann und der Musik Johann Sebastian Bachs.
Als internationaler Dozent seines Fachgebietes gibt er Interpretationskurse für Orgelliteratur des 17. und 18. Jahrhunderts. Es liegen mehrere CD-Einspielungen und Rundfunkaufnahmen von ihm vor.